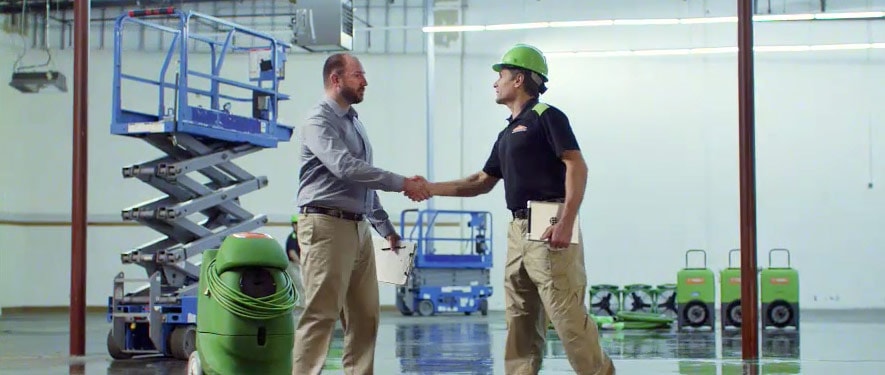 Commercial Services
Did a natural disaster, storm, or other damaging circumstance cause havoc to your commercial building or property? SERVPRO can help. We specialize in providing a variety of commercial restoration services, including cleaning services. Whether you own a retail store, government building, or warehouse, rely on us. We know that the hours following a disaster are vital, so rely on us for a quick response and fast action to get your building back to like-new condition. We are available 24/7.
We Handle Any Commercial Building
At SERVPRO of Western Lancaster County PA, we don't just specialize in one specific industry for commercial cleaning. We can help with any commercial property. We can clean and restore:
Office buildings
Apartment buildings
Restaurants
Hotels or motels
Retail stores
Manufacturing and industrial facilities
Government and military buildings
Whatever commercial property you own, rely on us for qualified, complete commercial service.
We Take Care of the Insurance Process
After a disaster, we know that you want things back to normal as soon as possible. Instead of stressing over insurance paperwork, let us help. We help you understand what forms to fill out, what deadlines to expect, and who to talk to for managing your claim. Don't let a disaster ruin your day. Turn to the experts at SERVPRO of Western Lancaster County PA. Call us now at (717) 665-1270, or submit your claim online.
Small Office Buildings
Large Office/High-Rise Office Buildings
Apartment Buildings
Restaurants
Hotel/Motels
Small Retail Stores
Large Retail/Big-Box Stores
High-Rise Residential
Manufacturing & Industrial
Government/Military
Have Questions? Call Today – (717) 665-1270
Commercial Building Restoration Services
We are available 24 hours a day to get your Western Lancaster County business back up and running. Our expertise includes restoration services for fire and water damage, including electronics restoration and document drying. We are also your business's best resource for mold remediation. Learn more about our commercial restoration services:
Commercial Building Cleaning Services
When the dirt, odor, and moisture challenges go beyond the scope of your regular janitorial staff, you need SERVPRO of Western Lancaster County. You can depend on us to get the job done right and get it done quickly. Our highly trained technicians use top-of-the-line equipment to make your business shine again. Learn more about our commercial cleaning services: